Mill Exhaust – Material Handling Fans
---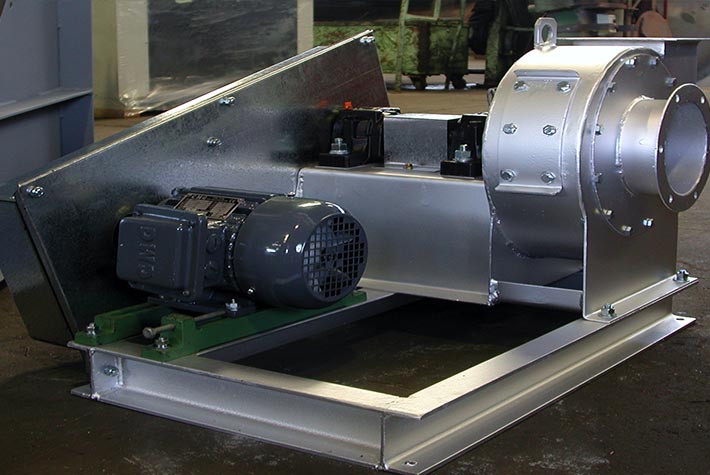 FBA Material Handling fans, commonly known as Mill Exhaust fans, are an ideal choice for exhaust systems conveying materials.
The mill exhaust series has a choice of two impeller designs. The most commonly used impeller is an open "paddle wheel" type. This impeller has eight radial blades welded to a fabricated steel spider and is suitable for conveying wood chips, sawdust and all types of granular material, and for exhausting buffing wheel and abrasive dust.
The second choice of impeller, with similar characteristics as the open paddle but with the addition of a backplate, is known as a "wool wheel". It is used for applications requiring the conveying of fibrous or stringy materials such as paper trim, rags, long wood shavings etc. These materials have a tendency to wrap round the shaft of the open paddle type and clog the unit. The inclusion of a backplate obviates this possibility.
Impellers have flat radial blade surfaces that, are easy to clean and reduce material deposit or build up. Wear plates can be fitted to the blades if required.
The rugged construction of the complete fan assembly provides a design for the heaviest industrial uses, with impeller diameters ranging from 310mm to 1680mm. A full range of standard accessories is available. Fans can be constructed to operate at temperatures up to 400°C.